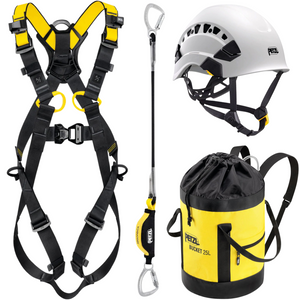 Our Aerial Lift Kit includes
PETZL NEWTON International Harness. The NEWTON fall arrest harness is comfortable for work and easy to use. It offers ergonomic stowage of MGO connectors and has fall indicators. It is certified to North American, European and Russian standards. ANSI

PETZL Vertex Vent Helmet. With its strong chinstrap, the VERTEX VENT helmet sets the standard in head protection for workers at height. It has ventilation holes with sliding shutters to allow the ventilation to be adjusted as needed. Its six-point textile suspension ensures maximum comfort, and its CenterFit adjustment system adjusts the headband and keeps the helmet centered on the head. 
PETZL-ABSORBICA I International Version. Single lanyard with a compact, integrated energy absorber designed for protection on a horizontal lifeline (rope or cable) or on an elevated platform. Equipped with two captive carabiners, it is certified to U.S. and European standards.
PETZL Bucket 25L. Simple and durable, the BUCKET bag allows the user to store a rope and any associated gear. It remains upright and keeps its shape, even when empty, for easy access to the contents of the bag.