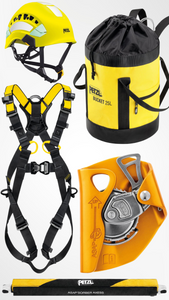 The Suspended Scaffolding Kit includes.
PETZL Newton International Harness. The NEWTON fall arrest harness is comfortable for work and easy to use. It offers ergonomic stowage of MGO connectors and has fall indicators. It is certified to North American, European and Russian standards.  ANSI
PETZL ASAP Sorber Axess. The ASAP'SORBER AXESS energy absorber may only be used with the ASAP or ASAP LOCK mobile fall arrester. It allows user to work at a distance from the rope, in order to protect it during certain work phases. Equipped with tear-webbing inside a pouch that opens on each end, the absorber is protected from abrasion, while allowing for regular inspection.
PETZL ASAP. With its unique locking system, the ASAP sets the standard in fall protection for workers at height. In normal use, the device moves freely along the rope without any manual intervention and follows the user in all his/her movements. In case of shock or sudden acceleration, the ASAP locks on the rope and stops the user. Depending on use, the ASAP may also be combined with an ASAP'SORBER or ASAP'SORBER AXESS energy absorber to work at a distance from the rope.
PETZL VERTEX VENT HI-VIZ HELMET. With its strong chinstrap, the VERTEX VENT helmet sets the standard in head protection for workers at height. It has ventilation holes with sliding shutters to allow the ventilation to be adjusted as needed. Its six-point textile suspension ensures maximum comfort, and its CenterFit adjustment system adjusts the headband and keeps the helmet centered on the head.